Auf Einladung nach Südfrankreich / Nîmes schuf ich nach einem Tag der Ortserkundung an drei aufeinanderfolgenden Tagen drei verschiedene Installationen aus gefundenen Materialien vor Ort. Beinflusst wurden das Aussehen und die Platzierung der temporären und architekuralen Skulpturen von der Umgebung: In unmittelbarer Nähe des Einkaufszentrums "family village", welches mit hoher Attraktivität für die ganze Familie an sieben Tagen in der Woche Konsumenten und Konsumentinnen anlockt, liegt verwahrlostes Brachland. In der dokumentarischen Videoarbeit "family village" habe ich die situativen Arbeiten im rauhen Außenraum mit Bildern der lockenden inneren Einkaufswelt verwoben. Die Bild – Textcollage des Videos zeigt, wie widersinnig das Konzept eines Einkaufszentrums sein kann.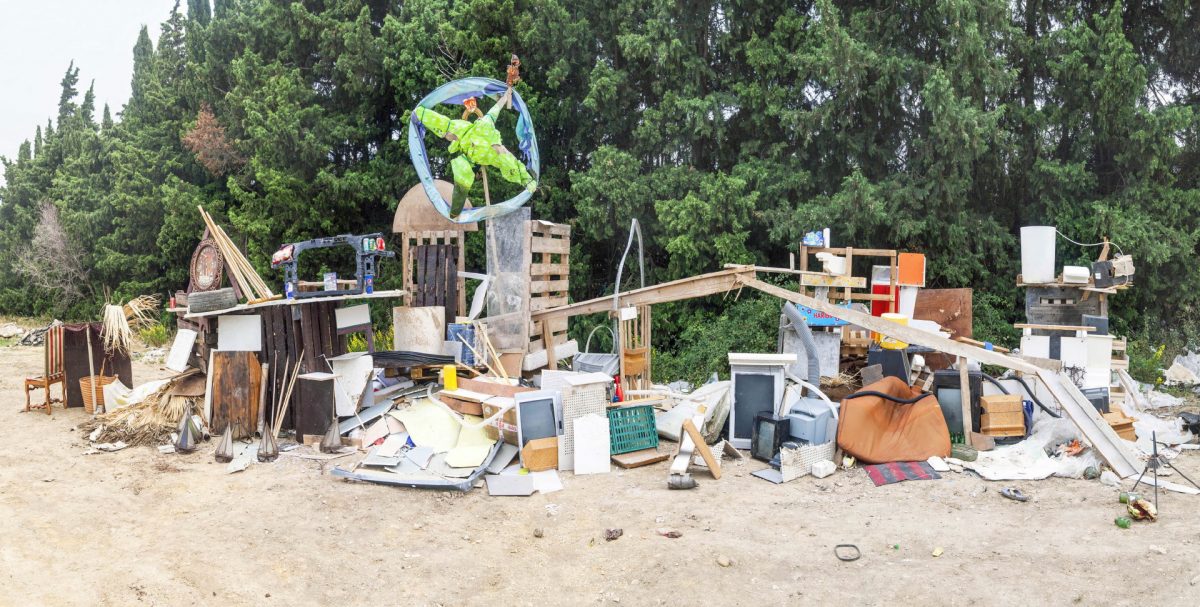 The ideal shopping center is the town. We always strive to recreate shopping streets or markets in towns. Family Village is a Mecca for shoppers. It is a large and successful shopping, leisure and retail park destination. And it's easy to see why: with home improvement, sports, leisure and cultural offerings, the Family Village will meet families' every need. Family Village generally has a younger age profile than the national average. Shopping centers reflect the culture of our time. Conveniently located on freeways, the Family Village uniquely offers free car parking spaces for its shoppers. The Bus service have also improved scheduling by adding routes that bring more customers to the Village.
The project has been entirely approved by the Departmental Commission of Commercial Development and the building permit has been issued. More than 50% of space has already been taken up on the site. In the early 2000s, Altarea Cogedim introduced the "Family Village"- concept. It involves shopping malls with a distinctive architecture and environmentally friendly, designed for a clientele consisting of families and multiple age groups.
It's innovative retail concept is, where goods coexist with services, where a bookstore is also a café, where food shops are arranged in a vintage setting.
The surprise lies as much in the architecture as in the retail offering. With a diverse mix of retailers covering all categories from a really strong fashion offer and lots of restaurants and entertainment facilities all within a convenient easy to access area.
To make individual selections and compare products, it is important to see, feel and touch the goods – something that can only be done in a store. The Village have whatever the customers require, it's concept is an appropriate solution for the city of today and tomorrow.
Textcollage: Katharina Lüdicke (source: www.altareacogedim.com)